Visit Randi at i have to say... for more Back to School Week stories.



Visit Tiany at Less of Me~More of Him for more Homeschool Open House stories.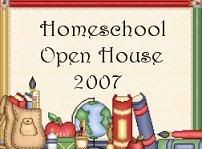 We started back to school today. Truthfully, I was dreading it. It's still so... hot outside. I just mailed my notification to the superintendent on Tuesday. I felt ill-prepared, and unmotivated. But, the show must go on...

I prayed about how I was feeling, and left it in God's hands. I woke this morning, and baked a batch of Apple Cranberry Spice muffins. You can find the recipe at Mama's Fixins. The house filled with a wonderful aroma, and we started into our day. I was delightfully surprised at how our day went. No tears. That's right; I didn't cry once! (0;

Yesterday I mentioned that Autumn was using a host of things that I already had for Mac. I also mentioned that we sent Mac to school in 8th grade. The catch here is that Mac was working two grades ahead for his age. When we sent him to school, we didn't want him to be 14 and in 10th grade. We felt that would have been too hard at the public school. So, this year, Autumn is in ninth grade, and she is using materials that Mac had used.

Here is a list of what she is using this year:

The Bible

English:
A Beka Themes in Literature
A Beka Vocabulary, Spelling, and Poetry III
A selection of books recommended by Sonlight, and Veritas Press

Science:
TOPS Science Electricity
TOPS Science Magnetism
Various books on gardening

History:
A Basic History of the United States volumes 1-5 by Clarence B. Carson
God and Government volumes 1-3 by Gary DeMar
Of Plymouth Plantation by William Bradford
The Patriot's Handbook by George Grant
The Federalist Papers
Democracy in America by Alexis De Tocqueville

Math:
Videotext Algebra

Home Economics:
Cooking, Sewing and More by Christian Light Education

Collin breezed right through his work, as usual, and even did half of his work for tomorrow!
Abigail seemed to enjoy herself, and was tickled that her first science lesson was about fruits. It included a recipe for "candle salad" that she was able to make for her lunch. How much fun is that?

Walmart
and Subway. Grandma came along, as well. I was so happy, because she often declines, but really does feel good when she gets out for awhile.
Today's topic at Randi's Back to
Homeschool
Week is
"Getting out there...".



When we lived in a bigger city, we were very involved in Co-op classes. I loved this as much as the children did. I helped teach, and visited with other moms. That is no longer an option for us, but we still get together with other
homeschool
families for field trips and play days.
My children have all played sports locally. Collin has participated in football, basketball, and baseball. Autumn and Abigail have played softball and basketball. Abigail has participated in a
homeschool
gymnastics. The boys are in Boy Scouts. All of the children have been in plays. Believe me, we get socialization!