"The mother's heart is the child's schoolroom."
~Henry Ward Beecher

Randi at I Have to Say is hosting Back to Homeschool Week,




while Tiany at Less of Me~More of Him is hosting a Homeschool Open House.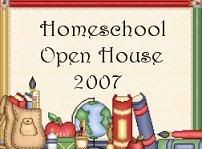 I am trying to kill two birds with one stone! ;0)

Randi asked the following questions:
Monday--What led to your decision to homeschool?

We started our two oldest children in public school when we lived in Pennsylvania. It was all we ever knew. I'd never heard of homeschooling. Verne had to make a job change in 1999, which took us to a different state. We went from living in a very small town, to a large city. We lived in the city limits, and our children would have gone to inner city schools. Our realtor was also a member of the church that we were going to be attending. He and his wife homeschooled their five children. As we drove around from house to house, he talked about this very "new to us" concept. I was sold. The day after we moved into our new home, we started school. Mac was 8 and starting third grade. Autumn was 6 and starting first.

Tuesday--How do you homeschool? I tend to be a very structured person. We have a set schedule, and stick to it. I plan out the schedule for the year, and we complete our curriculum fairly easily. Thankfully, my children are self-motivated, and it goes very smoothly.

We start our day no later than 9 AM. I work one on one with one child , while the others go about work that they can do on their own. Then, we switch. It's been helpful in in the past two years for Autumn to help me with Abigail, as well. They both enjoy it, and this gives Autumn practice teaching. Collin likes to help too, and often offers to correct Abigail's papers for me.

We've used many different curriculums over the years. To read what I have previously written about homeschooling with a complete or inclusive curriculum go here. I've previously written about Science here. You can find which Language Arts curriculum I love here. Here are my opinions about Arithmetic.

We are doing things a bit differently this year. For the past few years we have used Alpha Omega's Switched on Schoolhouse. Collin excels at learning this way. Abigail did fine, but asked me for more one on one time this year. Autumn dislikes learning on the computer. So... Collin will continue on the road that he enjoys. Abigail is doing the same curriculum, but in Lifepacs instead of on the computer. Autumn is doing a hodge podge of things that I already had here for Mac previously.

I have to tell you how God blessed us this year. Abigail really wanted to spend more time with me, but she did like her curriculum. A friend of mine called one day over the summer and asked me if I would like the 4th grade set of Alpha Omega Lifepacs for Abigail. She ordered them, did one lesson, and decided to go back to the A Beka that she had been using. I offered to pay her, but she said no. What a huge blessing for our family. An entire year of curriculum for free. And something that I really like!

I feel like I should mention that Mac is in public school. We kept him home until mid-way through his eighth grade year, and then sent him to school. He excels there, and enjoys it. Looking back, we probably should have kept him home, but the deal was he could go if he got all A's. He's a junior this year, and has been on the high honor roll the entire time. We are not planning on sending our other children, and Mac encourages them to stay home.

So, how about you? To join Randi or Tiany, feel free to write your own story and link to their sites. We start back first thing in the morning. Good night!